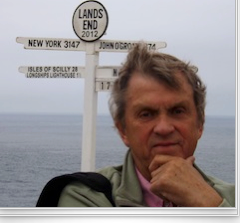 Here, there, everywhere and some other places too …
And so into Germany...
10/05/13 16:32 Filed in:
Austria
| Germany
| Site review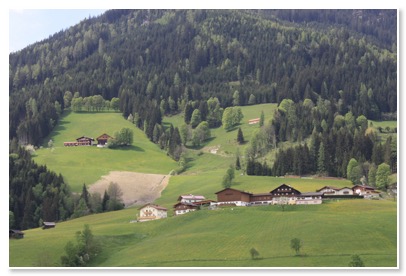 Our time spent in Seecamping Berghof in Austria was spectacular and varied. From the last blog entry you can see the link to the site webcam displaying the incredible views across the lake. We spent two nights there and on the first day we piled into Gianni's van and headed off down the road to Italy! Yes, we were that close and we had received a glowing report about a restaurant in Tarvisio which, it must be said, lived up to its reputation.


But while on the subject of food we came across something quite unexpected while at the campsite in Austria. On our first night we decided to try out the onsite restaurant and, as we have come to expect recently, the staff were just the best, welcoming us and being helpful in every way.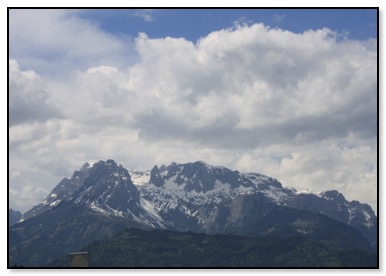 The food was quite good too and the experience was one we would have been keen to recommend but for one little thing. It appears the laws in Austria on smoking in public places such as restaurants are not just as strict in other countries. As we dined some other customers sitting relatively close by were smoking and we found it quite uncomfortable. Somebody once said that tolerance levels reduced in direct proportion to your age. They certainly knew what they were talking about! We chatted to one of the staff about it and discovered that there are, in fact, laws in Austria probably similar to what we are now used to but they just are not enforced. Seems restaurants do provide facilities for smokers but the area is not clearly defined. Pity because it was the only thing I could fault the site with.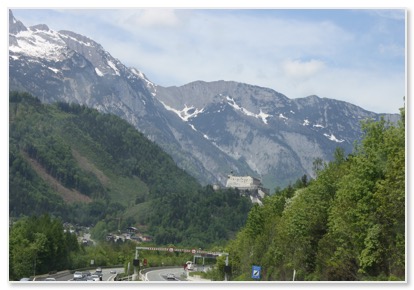 They had a fabulous feature in their sanitary block. There are individual bathrooms which contain a toilet and shower and you can secure one of these for the duration of your stay and for that time it is all yours. They were as good as any 5 star hotel. An excellent feature.

Like so many sites on this trip we were sad to leave but that feeling gave way very quickly to one of sheer awe as we drove northwards through the alps. I could use words like "stunning" and "incredible" and they still would not do justice to the views. I can honestly say in my motorhoming experience I have never seen anything like it and that goes for the rest of us on this trip. I hope some of the pictures here can give you just a little idea of what it is like.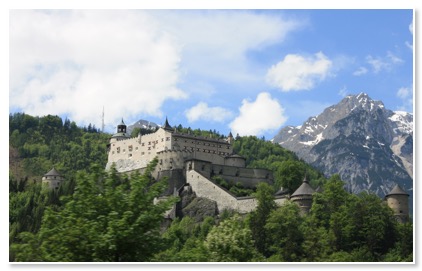 Our destination was to be another lakeside site some miles into Germany. Panorama Camping Harras, the coordinates are 47.839930, 12.373960, if you want to have a peek in Google Earth. Today was Thursday, May 09, 2013 which is Ms Nancy's birthday. However, it also happened to be Father's day in Germany so lots of families had clearly decided that Camping Harras would be a good place give the old man a night out! The result was something similar to putting a quart into a pint pot. Still the weather was good, the food was good and, as we say in Ireland, "the craic was good". That was yesterday.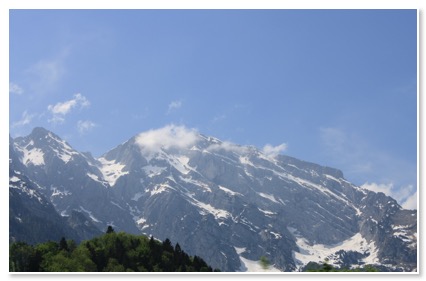 Today it is Friday, May 10, 2013 and the heavens have opened. I have never seen so many fathers high tailing it out of one place so quickly. We are staying put until tomorrow when we will move on en route to Alsace. We expect to be there by Sunday.

By the way, a special thank you to Nancy for all of today's pictures. What a way to spend your birthday!

One final thought about yesterday's trip through Austria into Germany. As you know by now we are four people (and Dougal) travelling in two motorhomes. Gianni and Loretta Carbone are experiencing the same views and sensations so it was interesting to compare notes last night when we got settled into Camping Harras. So in her own words:


Gianni and myself had a most memorable, first experience of Austria, when driving with our travelling buddies, Frank, Nancy and Dougal, as we headed northwards towards Munich yesterday.

The views on route were truly spectacular. Mile after mile of dramatic mountain peaks, capped with snow and smothered in evergreen pine forests of various description. All dotted with wooden, colourful Austrian style houses.
Then to eclipse even that, we stopped for lunch at we believe, the most incredible MOTORWAY service station stop-off. Honestly, the quality of food, drink and goodies to buy, could not be bettered, even in a 5 star hotel in Hawaii or Monte Carlo. The traditional costumed staff, only added to the fairy tale effect.

The final cherry on the cake, was where it was situated, in a valley, surrounded by stunning, dramatic, snow peaked mountains. The name of the place was LANDZEIT autobahn-restaurant and if you are ever passing that way in the future, do not miss this Hansel and Gretel experience. The coordinates of the place are 47.247710, 13.425140.

And finally, that fairy tale castle again: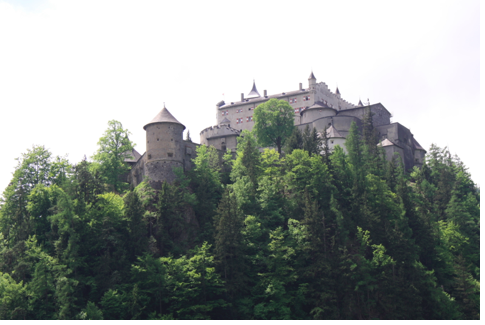 Sidebar
T